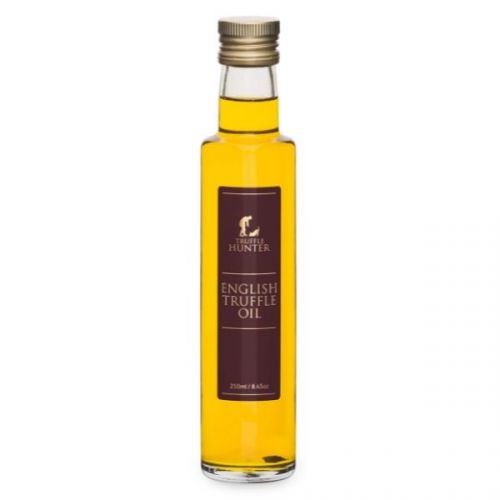 Truffle Hunter- English Truffle Oil
In Stock
£18.95
About English Truffle Oil

What is Black Truffle Oil (250ml)?

They shave the highest quality black truffles and expertly blend them with their unique flavour & cold-pressed extra virgin olive oil. Cold-pressing produces less oil than heated pressing but ensures that the delicate flavours & aromas are not damaged. This blend is twice the strength of their standard truffle oils and is designed to be used sparingly A few drops will bring dishes to life.

What does it taste like?

Intense earthy aroma. Powerful black truffle flavour throughout with a gentle olive oil finish.

How should I use it?

Use this Black Truffle Oil (250ml) as a finishing oil to dress dishes before serving. Although the uses are endless, we recommend drizzling on pasta, pizza and risotto.
About Our Supplier
They love sourcing the best seasonal fresh truffles, for customers who are as passionate about flavour as they are. Over 10 years ago, they started hunting with truffle experts in the Sibillini Mountains in central Italy, where some of the world's finest truffles are found. They loved it so much that they are still going back. Today, they continue to work with expert truffle hunters who source the highest quality truffles from the best truffle regions throughout Europe.
Over the past decade they have developed a luxurious collection of truffle products for gourmet food lovers worldwide. This consists of Truffle Oils & vinegar, Truffle Dairy, Preserved Truffle, Truffle Snacks, Truffle Pasta, Truffle Condiments, and a range of luxurious gift sets.
Let us keep in touch
Sign up to receive news, offers & more